Hastings High School
Class of 1975
20 Year Reunion Recap
---
Teachers, Friends and Classmates
of the Hastings High School Class of 1975
December, 1995
This holiday greeting has many purposes, not the least of which is to wish you and yours a very healthy Christmas, Chanukah and New Year. It is also designed to thank those who participated in the Hastings High School 20th Reunion, to generate even more interest in the upcoming 25th reunion in the year 2000, to give a final update on the scholarship fund, and to check up on how accurate our mailing database is.
The Southside Club, just before the police arrived...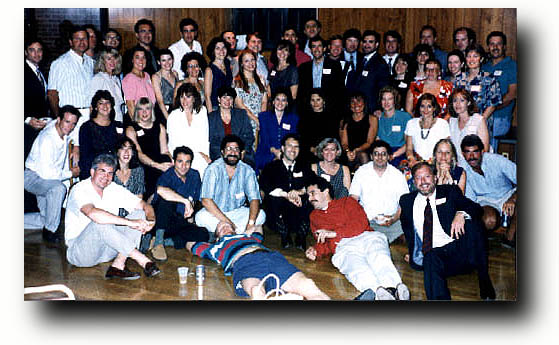 Click here to see more pictures from the 20th Reunion
(care of Glenn Martin, Greg Vaughn and Alison Marston Powers)
Excerpts from Keith Olbermann reunion article
for The Enterprise (9/1/95):
Blessed in memory be those anonymous troopers from Magicolor who somehow lined us up, year after year, for the class photos. Sue Stein (Klubock) had brought reproductions of these marvelous excerpts from our lives and they held us entranced. Who was that tall girl who always wound up standing next to the teacher? Ann someone. Three names. Ann Lloyd Jones! Could Joe Bennett possibly look exactly the same as he did in 1967? How much would Jan Sidebotham pay to see her dressed in that sailor from 1965? And the answer to which of life's deepest questions was contained in the fact that Nancy Skultety's own daughter is a dead ringer for how Nancy looked in looked in Mr. Fuscaldo's class 26 years ago. We took our own massive group picture (tall boys in the back, tall girls next row, everyone squeeze closer) to a peppering of flashes worthy of a club opening.
The nostalgia washed into Sunday as a large part of the group lingered at the village pool, this time complete with offspring who could not have understood their parents hysterics when a mimeographed copy of poems from Mrs. Plant's third-grade class was produced and poets Amy Farber, Jill Padawer and Pat Sinatra gave an impromptu reading. All too soon, the poems and the pictures and the memories had to be put away for the sake of the daily tasks of today's lives and a line was repeated so often it began to sound like a catch-phrase: "I feel sorry for anyone who didn't come here."
It would seem a cliche or a delusion of grandeur to suggest that there was something special about this reunion, and yet clearly, there was. In this often stratified society everyone is an outsider at one point or another. But it is one of our soothing miracles that shared experiences, especially a shared experience of long ago, can knock down any walls... Nancy Skultety summarized it best in the waning hours. "All the cliques are gone," she said with great satisfaction. "Everyone's talking to everyone."
The actual attendance was well over 50 percent and apart from trying to explain to the absentees how transcendent the weekend was, the organizing committee (which I would guess now numbers all of us who attended) has already begun its search for 25 or so still-missing graduates and just about anybody else who was with us for any length of time. Zach Nethercott and Paul Saletan have got to be out there somewhere
---
Jimmy Katzenstein letter to The Enterprise (9/11/95):
I compliment Keith Olbermann splendid article on the reunion of the HHS Class of '75. I was a graduate of that class, and attended every event planned for the reunion, including a touching ceremony to memorialize four of our classmates who have passed away: Jean Alexander, Chuck Caruso, Lisa Kowalewski, Scott Shivas.
A memorial plaque was set in the High School in honor of these individuals. Four scholarships were also established in their honor, with donations coming mostly from our classmates.
I would like to thank fellow classmates for being the major force behind the success of the reunion.
Chris Smith Thulin, Sue Stein Klubock, Alan Fine were the momentum behind the reunion.
Larry Kaiser, for organizing the memorial and scholarship fund.
Ernie Grascia, the liaison with the Southside Club.
Bill Kotiadis outstanding appetizers.
Nancy Skultety Gagliardi rode heard over the girls from the High School who were waitressing.
Thom Kulsha, for providing the sound system
Kate Hopkins Greenburg , for the beautiful flower settings.
And last but not least: Maud Tucker (Class of '79) who let us use her restaurant, MAUD'S for the beginning of our festivities.
---
A follow up to Jimmy Katzenstein:

Larry Kaiser for hunting down & choosing a memorial plaque.


Nancy Skultety Gagliardi - for also setting up the pool party, the school tour and for riding heard over the PTSA scholarships.


Jimmy Katzenstein, for all the unbelievable all-you-can-eat ice cream bar.
And anyone else we may have inadvertently forgotten to thank..
---
Reunion Reflections
By
Pat Sinatra
:
I approached my 20th reunion with some degree of apprehension. I had visions of double chins, fat butts, stretch marks, and non-stop chat about who had made what in the stock market, since money, low and behold, did become important to many of us boomers in the 80s. I dreaded the re formation of clicks because then I would be in deep doo-doo I never hung out in any one click for long.
But, let me share with you, my dear friends, that if you did not make it to the 20th reunion, you missed out. All those pre-conceived notions of fat butts (except for mine) and double chins went right down the tube...
I was astonished at how terrific everyone looked. And the personalities.... I never realized how cool Alison Marston, Jill Padawer, and Cynthia Barr were. Dave Heston was as warm as ever. And Ricky Wester looked like... Ricky Wester!! How about that, dude? And when David Walters revealed that he had a crush on me in high school, I just melted. I danced to "Super Freak" with Joey Pagan, in a dance style that could not be traditionally defined by any means. ( I never made it to the prom and this was my chance to make up for it.) And, remember that little guy who used to collect matchbox cars that sat next to me on the bus in third grade? Yep. Little Keith Olbermann. "Little" Keith now towered over me by at least a foot, and was a sports caster celebrity on ESPN! I WAS TALKING TO THE NEXT HOWARD COSELL!!! Wow, Keith and Ricki Lake. And I thought Jacques Lipschitz was the ultimate.
I can ramble on and on about the reunion. After all, it was a full weekend event. I only wish that everyone could have made it back. (Cabbage - Carrie Rosenberg your baby is an acceptable excuse for not making it to the reunion.) But for the rest of you folks -shame on you! To hell with these dysfunctional gurus Shame is GOOD for you! For that matter, so is GUILT! You better get yourselves to the 25th reunion because if you do, you'll never be the same! You will come to peace with your inner child, and you may even have a good time. Besides, the rest of us want to see you..
---
Things of interest which made it through the grapevine:

On August 17, 1995, the day before our reunion, Carrie Rosenberg Crockett gave birth to Lucas Coston Crockett (10 lbs. 8 oz. 22 inches) Congratulations, Carrie.
Larry Kaiser reports that the Memorial Fund raised $2,928.21 (after deducting the cost of the Memorial Plaque for the high school). The PTSA will award four students from the Class of '96 over $730 each for their proven excellence in the fields of Academics, the Arts, Community Service and Athletics..
Postscript
Just a week after generously sharing her time with us during the reunion kickoff at Maud's, Ester Liberman died in a tragic car accident. Those of us who were taught by her are richer for the experience. Those of us with the opportunity to speak to her one last time during the reunion consider ourselves very fortunate.
Jean Alexander, Chuck Caruso, Lisa Kowaleski, Scott Shivas are all gone, but not forgotten; whether we knew them well or not, they each signed a private place the ultimate yearbook, our memory and our hearts